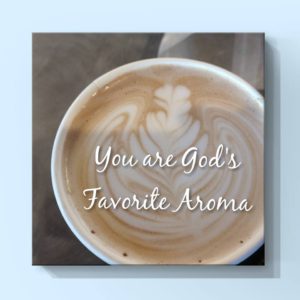 I have to say one of my favorite aromas is the smell of coffee perking. Not so much because of the smell but for the feelings it evokes. One sip of perked Jo first takes me back to being a young girl at our Taylor family Christmas parties when each year I would sit at the counter while my great uncle made fresh perked coffee and I got to spend time with some of my favorite people in the whole world! It also takes me to morning devotions with my late husband where we would sip on coffee and talk about Jesus. Such precious memories……It takes me to fun camping trips with our youth and lots of mornings where I wake and my sweet girl has fixed coffee to get our day started with warmth and a heart squeeze. It truly is an aroma of love for me.
I say all this because the spiritual aroma we put off when we do things to please Jesus evokes feelings of great joy and love for him too! It stirs his heart to move on our behalf. This was our topic Sunday night at youth. To get the subject going I placed several different items in cups and jars and had some unsuspecting youth choose one. Some got vinegar, onions, or a boiled egg, others got peppermint, lemon and cinnamon. Their faces quickly told which one they got but the horror came when I told them we were going to rub it on them and that is what they would smell like the rest of the night! Can you believe not a single one wanted to smell like the onion, vinegar or boiled egg but they were all willing to smell like the pleasant aromas of peppermint, cinnamon and lemon! Spiritually that is how we should want to be all the time! What aromas are we putting off? What kind of aromas do our everyday lives scent the air with? Scripture tells us that prayer, giving thanks, repentance, worship, and sharing Jesus are like sweet incense rising up to the throne of God! How we live our lives puts off a scent to those around us too! Those aromas can be used to hurt and tear down OR it can be used to bring healing, joy, and hope to others.
2 Corinthians 2:14-16 tells us to spread the aroma of our salvation to others. It also tells us that our sweet aroma of salvation may smell like death to some. But this you can be sure of…….the more you burn for Jesus the sweeter you will smell. Others may or may not receive that but Jesus always will because YOU are his FAVORITE aroma!