Our nursery is located in our Education Building adjacent from our main sanctuary. Our nursery team is committed to providing a safe and loving environment for children 6 weeks through 2 years of age.
We desire to give moms and dads the option to leave their child in the hands of a very friendly and loving nursery staff member, who will care for them in a safe and fun facility.
WHAT TO EXPECT
A friendly Nursery Team Member will get your child registered (requesting some basic safety-related information) and checked in.

You and your child will be assigned a matching number as an identification code. You will be given a card with the number to be used during pick-up time.

In the rare instance that we may need to contact you during the service, we will display your identification number on the screen in the main auditorium. We ask that you bring your card with you and immediately find a NVM Nursery Team Member, who will direct you to your child's room.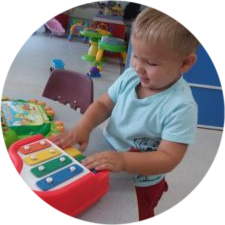 Service Times: Sunday Morning 10:30 Wednesday Bible Study 7PM
Office Hours: Mon – Thurs 9AM-2PM Phone: 704-736-0902 Address: 661 Clarks Creek Road, Lincolnton NC 28092