Here at New Vision Ministries we are a non-denominational church located off Clarks Creek Road in Lincolnton, NC. At New Vision everyone has a past whether you have been here for years or just walked thru the doors. There is nothing that God can't fix if you're ready to let him into your life. We are here to help you seek him, find him & consult him with every part of your life. We all come from different walks of life & that is what makes the world so wonderful. God loves us all, we are all his children. We are a contemporary church & we believe that you should come as you are. It is not about who you are or how you dress; it is all about God & no one else. No one is unlovable or unreachable. Our church pours out our love to everyone who comes thru our doors, you are family. We look forward to seeing you soon
To
LOVE
those that no one else loves. To
REACH
those who others deem unreachable. To
EQUIP
saints to do the work of God. To be
FOUND
FAITHFUL
when Jesus returns for us.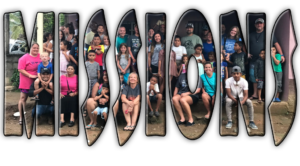 Small groups are a great way to cultivate community with those who attend our services and those we are trying to reach outside our four walls.
Our Fall Session has just launched with 8 exciting classes.
Missions
We travel to and support missions in Honduras and Haiti. Get Involved!
Help spread the love of Christ throughout the community. It is our mission to be the hands and feet of Jesus.
Senior Adult Ministry
Sunday class: 9:30AM in the education building
Our Senior Adults meet for a time of fellowship the first Thursday of every month at the church. They also take day trips throughout the month.
We only get a few short years on earth. How do we make the most of the time we have and live a fulfilling and meaningful life? Is there a way to prepare for whatever comes next?
Living for eternity ultimately means one thing: walking through each day with Jesus, choosing to let that relationship influence your day-to-day decisions. It doesn't mean following a bunch of rules. It doesn't mean never having any fun. It means handing God the reigns to your life and letting Him guide you, love you, and introduce Himself to others through you. God loves you a LOT, and truly wants what's best for you. You can receive the promise of spending eternity with Him, as well as a fulfilling and abundant life here on earth. All you have to do is ask Him, and He'll give you the free gift of salvation and new life given through Jesus.
Society tells us that living for today is all that matters. If something makes you happy, then do it and don't worry about the consequences. What society doesn't tell us is that what we do here and now makes a difference in eternity.